To date Lambano has assisted 91 children, 53 children have been adopted, 16 have passed away, and 22 children - currently HIV positive or living with AIDS - are part of the forever Lambano family.
This small but loving program strives to give their children a family type experience and are able to put all their children on anti-retrovirals for whom it is medically advisable to do so. During 2004 and 2005 our Bridges team brought art supplies, clothing, diapers, and financial gifts in support of their work. We spent most of an afternoon playing with these children of the Wychwood house.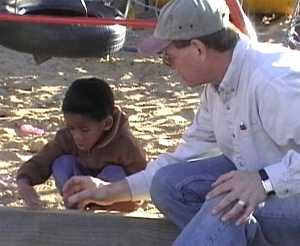 This is Kip with Samuel.
It took Samuel a while to "warm up to us".
We were told that Samuel, like many other ophan children, grew weary of people stopping by and coming and going, and decided not to get involved with "temporaty friends" anymore.