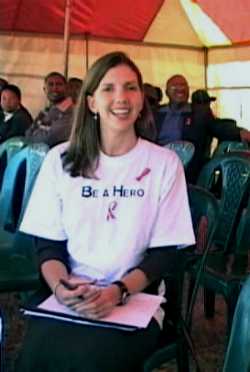 Betsy Elfers, GDCU Staff Member in Loskop, South Africa
This fair, organized by Microfinance for Youth staff and volunteers, was to educate and build awareness about AIDS.
Speakers talked openly (a rarity in rural South Africa) about how to get AIDS, how to prevent getting AIDS, and how and why to get tested and know you status.
This fair hosted a Zulu dancing competition, including offering a prize sheep, to draw community participation.
Local dignitaries spoke, and our MFY teacher, General Nzuza took the AIDs test publicly to demonstrate how this process was done and to de-stigmatize this process. Local MFY youth sold snacks to those in the stands.